If you're shopping for strength training equipment, it's easy to get confused by the sheer number of options you have: Single stack, power rods, free weights, leverage gyms, plate loaded, pulley systems, smith machines, power cages…the list goes on.
The great news is that there has never been a better time to buy home gym exercise equipment. You have so many options that can help you reach your personal strength training goals and prices have never better.
When buying a home gym, the first question to ask yourself is 'What are my goals?' Do you want to lose weight, tone up, build mass, improve performance (i.e. for martial artists, golfers, etc.)?
Different types of home gyms will meet different types of personal goals. You should also have an idea of your budget and what kind of space you have to put your home gym.
Once you know these 3 things, it's time to break down the different types of home gym equipment. While there are always new types of home gyms coming to market, we've tried to break them down into the most common types below:
1) Traditional Stack Home Gyms – These are like the commercial pulley gyms you often see in health clubs. You choose your desired weight, move the pin into the stack and pull (or push) bars, plates, etc. to do your sets.
Stack home gyms are also popular in home gyms as well. You can get single stack or double stacks (where there are 2 stacks of weights), single station or multistation (where more than 1 person can use the gym at the time).
Stack home gyms typically cost at least $800 and up. They can help you reach a variety of goals and can help with building strength, building mass, weight loss, toning and improving performance.
While these can be space efficient, the larger, more complete stack systems can take up a lot of space and be quite heavy to move. Top names in traditional stack gyms include Body Solid and Bodycraft.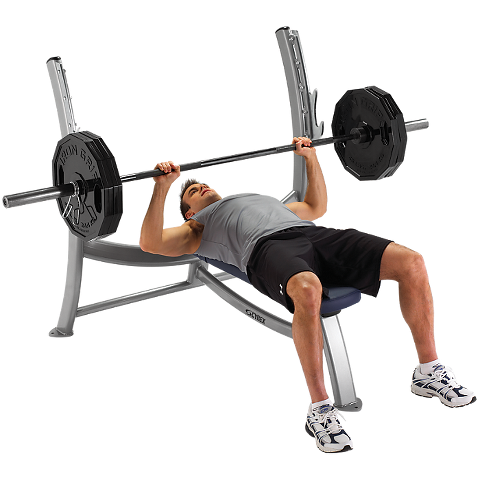 2) Free Weights & Weight Benches – These gyms consist of dumbbells and barbells, weight plates (circular discs that you load onto the dumbell or barbell), collars (to keep the plates in place), weight benches and sometimes a rack for placing your barbell on when resting between sets.
Costs can vary for these types of home gyms as can space requirements, depending on how many weights you want, if you want a rack (recommended) etc.
It can get quite expensive so it might be best to build your free weight gym over time.
Free weights are still pretty much one of the best options for building mass, getting full range of motion and getting a large variety of exercises. A couple of dumbbells can also be easily portable if you travel a lot.
On the downside, if you're going to be lifting heavy weights, you need someone with you to spot, unless you use a Power Rack. You don't want your strength to give out and drop a barbell across your windpipe.
3) Plate Loaded Machines – These are a cross between free weights and traditional machines. There are no weight stacks or pulleys. Plates must be loaded and unloaded manually using plates like those on barbells.
Smith machines and power cages fall into this category (Smith machines can also sometimes have weight stacks too). Plate loaded machines are used mainly for bodybuilding and building mass.
Cost and size requirements vary for plate loaded machines. Top names in plate loaded gyms include Body Solid and Bodycraft.
One unique type of plate loaded machine that is recently getting a lot of press is the plate loaded leverage machine like the Powertec brand.
Leverage machines combine the feel and resistance of free weights, with safety and control of a machine. They are safer than traditional plate loaded machines and you don't need a spotter.
4) Power Rod Resistance – There are a number of power rod or power band or crossbow home gyms however the most popular (and well-built) is Bowflex.
Power rod home gyms use flexible resin-like rods to provide a progressive resistance. (Progressive meaning the more you pull on the rod, the more of the resistance of that rod you will get).
They give you up to 410 pounds of resistance and are space efficient (many fold), cost effective and easy to assemble. You can often get one with a rowing machine as well for cardio.
For the most part, they would suit the majority of home gym users and are good for toning, weight loss and performance improvement (but you'd have to work really long and hard to build major mass).
Examples of band or rod home gyms include Bowflex and Weider.
5) Other – There are several other types of 'home gyms' on the market that deserve mention:
Bowflex Revolution – a new gym from Bowflex that does not use Power Rods but uses the SpiraFlex System. This system uses a series of elastic bands inside a plate like container.
While still being lighter in weight than a traditional iron plate of equal resistance, Bowflex claims the Revolution gives you more control, a more efficient workout and faster results. It's similar to the benefits of free weights.
While the Bowflex Revolution is quite space efficient, it's a bit on the high priced side ($2800).
Total Gym – These are the ones sold by Chuck Norris and Christie Brinkley on the late night informercials. They are cost effective starting around $200.
Basically you lie on an angled movable bench and use a pulley system to lift your own weight up and down the bench. Resistance is provided in the form of gravity and your own body weight.
Inclines are adjustable so the steeper the incline, the harder you work. These can fold and are space efficient, however they're really not recommend for anything other than toning.
So those are the main types of home gym exercise equipment and what they can do for you.